Digital Resources
---
Memory Matters
Covid Activity and Wellbeing Packs
Song Lyrics
Life Tips
Reminiscence Techniques
Connecting with someone living with dementia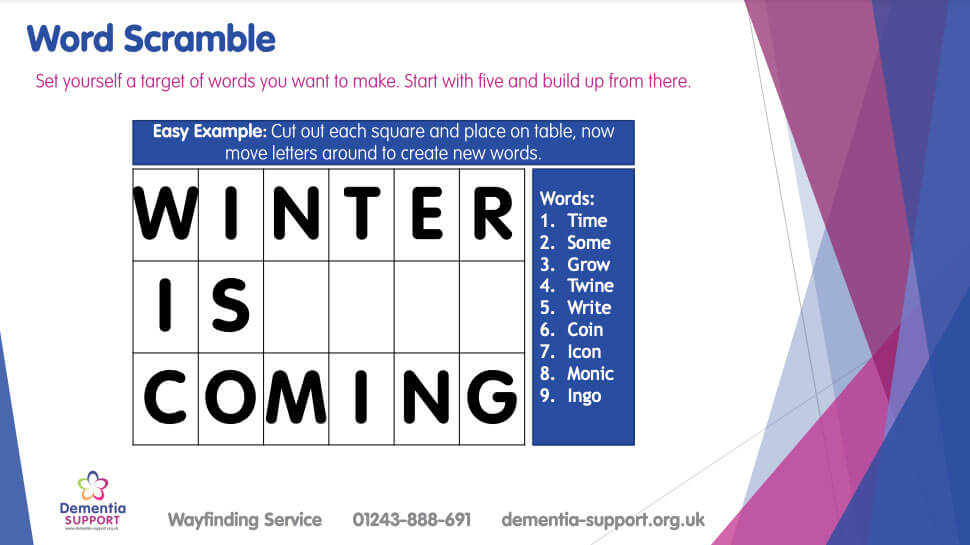 Word Scrabble
For instructions on how to create your own word scrabble game to help with someone's communication.
Download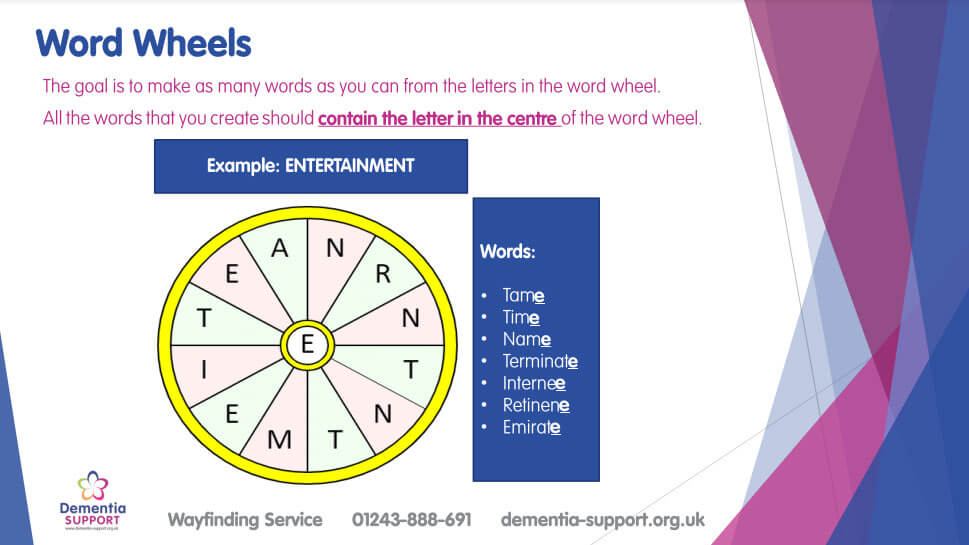 Word Wheel Game
For instructions on how to create your own word wheel game to help with someone's communication.
Download
Poetry and Creative Writing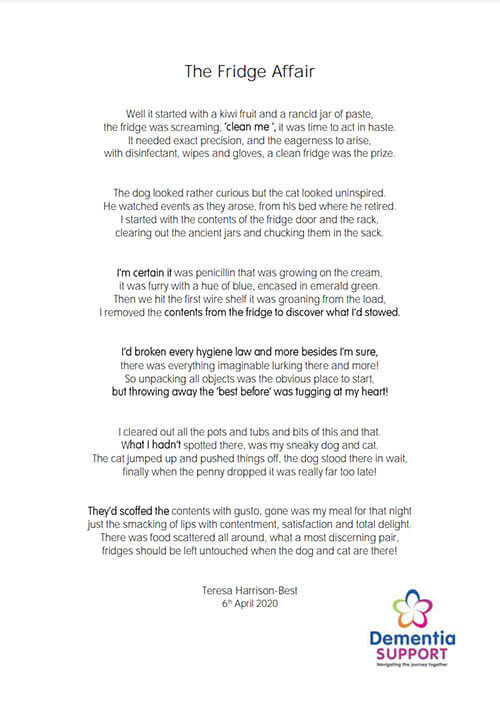 The Fridge Affair
by Teresa Harrison-Best
Well it started with a kiwi fruit and a rancid jar of paste,
the fridge was screaming, 'clean me ', it was time to act in haste.
It needed exact precision, and the eagerness to arise,
with disinfectant, wipes and gloves, a clean fridge was the prize.
To read the full poem please download.
Download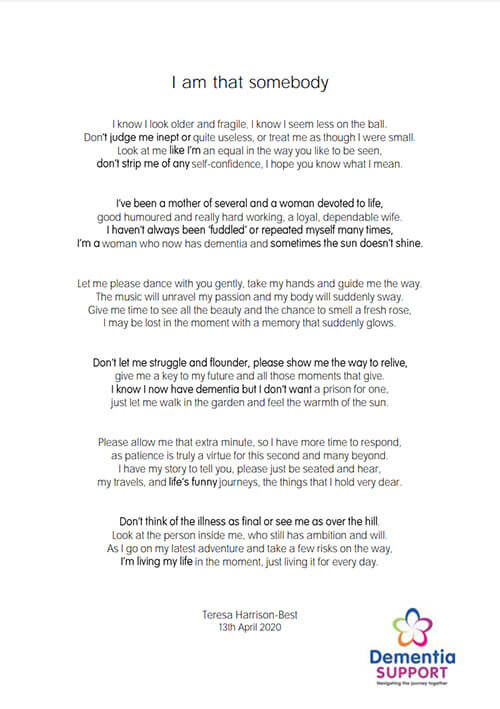 I am that somebody 1-3
by Teresa Harrison-Best
I know I look older and fragile, I know I seem less on the ball.
Don't judge me inept or quite useless, or treat me as though I were small.
Look at me like I'm an equal in the way you like to be seen,
don't strip me of any self-confidence, I hope you know what I mean
To read the full poem please click download.
Download
The Carer 2-3
We often go unnoticed yet we're present every day,
we do it for our love ones without the need for pay.
We watch the many changes and endure the painful aches,
we never turn our backs though, but the cycle never breaks.
We cry for what's now missing and for us, it's quite a lot,
we crave those special moments, the memories that we've got.
We cherish any contact or a voice that calls our name,
we wouldn't sit in judgement or try to issue blame.
We shield the vulnerability and stand for what is right,
we are on call all the hours whether daytime or the night.
We never ask for glory, or the grandeur of great fame,
we do it from compassion and it's here we will remain.
We don't want to be invisible with no voice to call our own
we are not just someone's carer to be left to fend alone.
We need to know we're valued by society once more,
we only seek acknowledgement and not to be ignored.
Teresa Harrison-Best
© 2020
Grandad's Lost His Forgetter 3-3
My Grandad's lost his forgetter, well it's what he says to me.
He tells me its gone walkabouts, I wonder where can it be?
It's making him so sad now and my grandma feels sad too.
If you see it on your travels, you know just what to do!
My Grandad's forgetter is precious, it's more valuable than gold.
It contains all of his memories and the stories that he's told.
You see, he calls me Arthur but my name is really Neil,
he calls my sister Dorothy, but her real name is Lucille.
I've checked beneath the sofa and looked inside the shed,
no sign of Grandad's forgetter underneath their double bed.
I've even told my teacher to have a look around,
and to phone my mummy straight away if his forgetter is found.
If we can't find the forgetter, I'll get a new one soon.
I'll save up all my money from tidying my room.
Lucille says she'll help me to get one from the store,
we want the best on offer, with apps and things galore.
Mummy tells us Grandad's perfect, he's greatest man on earth,
and his forgetter is a nuisance, more trouble than it's worth.
When sitting on my Grandad's knee I feel like Wolverine,
Grandad's just like Superman, the best there's has been !
Teresa Harrison-Best
The Big Garden Birdwatch
Christmas Quiz
We think you may also be interested in...
Our blog
Our news
Click on the link above to take you there.